The Kallet Theater
The refurbished Kallet Theater opened in 2013.  The theater serves as a focal point for the Pulaski community hosting various events from weddings, musical events, corporate meetings and community activities. Check out the Kallet Theater website for information on upcoming events and information on how to reserve the theater for your next event!
Accessibility
We're committed to meeting all our guests' needs to ensure everyone is welcome. We want to do more than just meet the requirements of the Americans with Disabilities Act – we want to provide equal access to our products and services for all our customers to the best of our ability.
We would ask anyone wishing to use our facilities or their carer or supporter to contact us with any specific needs. We will make every effort to meet the needs as explained to us and will not shy away from making any adjustments necessary to deliver the very best hospitality.
On the second floor, we have a small bar with lounge and a small balcony. Because the building was originally constructed in 1939, unfortunately there is no elevator to the second floor and therefore would be inaccessible to people using a wheelchair.
However, depending on the event, we generally offer at least a limited selection of adult beverages downstairs at concession, sometimes a complete bar, and no matter the event, If you are not able to find anything you'd like downstairs, one of our staff would be honored and pleased to procure you a cocktail from the upstairs bar and deliver it to your table.
The ground floor (which comprises of 85% of the entire space) is 100% wheelchair accessible, even for heavier powered chairs. From the handicapped parking spots on the side of the theater throughout the entire ground floor, there is at no time an obstruction greater than 1/8″ of an inch and even then it is only in the thresholds. No stairs or step ups of any height beyond that. Additionally, any of our seats on the main floor can accommodate a wheel chair so you are not "stuck" with only one location and our ground floor restrooms are ample enough to accommodate a motorized wheel chair and of course are equipped with support bars.
When you purchase your tickets, please inform the ticketing agent that one or more members of your party will be using a wheel chair and whether or not you'd like their chairs removed from your table.
For those needing assistance hearing, the theater is equipped with an assistive listening system using either over the ear or T-coil / telecoil inductive loops as well as distributed audio sound system for listening throughout the space as well as in the lobby and restrooms.
When you purchase your tickets, please inform the ticketing agent that one or more members of your party will require an assistive listening unit and we will make arrangements for you to pick up the unit or units when you arrive.
For any other accessibility needs, please contact us at 315-298-0007 or info@kallettheater-com.web-wearemovement-us.vps.ezhostingserver.com
Parking
Often, the first question people ask before visiting the theater is "Where do we park?" unlike many venues you may have visited, Parking near the Kallet is a snap! Accessible parking is located in the Kallet lot on the south side of the theater. There are several large public lots within a block of the theater (indicted in yellow) and ample street parking (indicated in green).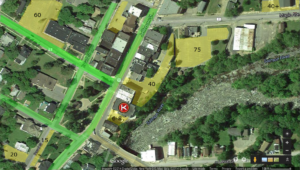 Transformation of the Kallet Theater